Car Service Northampton
Competence from a single source

From MOT and inspection over diagnostics and service to exhaust, shock absorbers and brakes. From oil change, tyres and winter check ups to air conditioning and ventilation - Jacksons MOT Centre in Northampton can perform cheap vehicle servicing specific to your vehicle. This way, you don't need to look around as we are here at your disposal - from damage prevention to the search for errors - and of course, to damage elimination.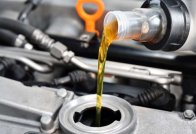 Today, daily road traffic turns out to be more challenging than ever before and a lot of driving will depend on the fact that you can always rely on your vehicle. In doing so, you want to reach your destination safely, without wanting to do without the fun of driving. Due to the increasing stress and wear of your car, regular checks and maintenance are indispensable and an integral part of owning a vehicle. With Jacksons MOT Centre in Northampton all risks for you and your vehicle are quickly found, completely excluded and repaired. These include, among others, the inspection of all safety-relevant parts of your vehicle within the scope of our 10-point "Master check" by our specialist team. After intensive and comprehensive visual inspection, the result is subsequently recorded in a test report and explained to you in detail. In addition, we will of course be pleased to answer all your questions about optimal solutions.
The Jacksons MOT car service is always there for you.
Our veteran technicians, the most sort after car mechanics Northampton, are able to service all types of vehicles at best prices to the highest standards. We also make sure, your main dealer warranty stays in tact. We only use main dealer checklists to carry out vehicle services. Our Centre is an approved service centre that services all sorts of vehicles. Our professional technicians have the know-how and experience to diagnose and repair all makes and models.
At Jacksons MOT Centre we offer two levels of car servicing northampton- customised services can also be provided:
Full Service - prices from £180 + VAT. This level of service uses engine flushes and treatments, autodata check list and filters and spark plugs etc are changed in accordance with the manufacturers guidelines. Include all brakes, tyres, lights, levels, suspension, chassis and various components greased. Interim Service - from £60 + VAT. This is the basic service for just your oil & filter change.
So why not book your next car service northampton with Jacksons MOT Centre and receive the exact same level of service you would expect from the main dealer without spending your hard earned money because of a name.
Car Service Northampton - Jacksons MOT Centre!