All Season Tyres
The All-season or All-weather tyre - compromise between summer and winter tyres.
If you want to avoid the effort of the annual change from summer tyres to winter tyres and vice versa, simply go for all-season or all-weather tyres. The rubber compound and profile of these tyres combines the two different groove arrangements of summer and winter tyres so that all-season tyres can be used both at warm temperatures as well as in snow, mud and ice.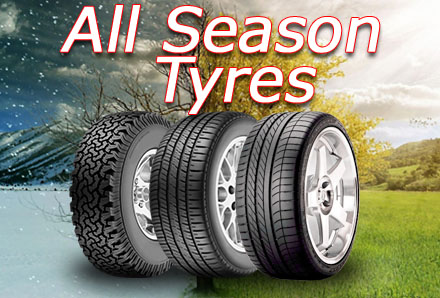 Their disadvantage lies in the fact that they do not reach the characteristics of really good winter tyres in winter because they offer less support on snow, and in summer they are subject to higher wear and tear and increased fuel consumption due to their softer rubber compound. Overall, All-season tyres are merely a compromise since it does not have the optimal characteristics for the respective season and thus does not offer the same performance and safety as summer or winter tyres. For those drivers only driving short distances it might still be a decent option.
If you are looking for All-season tyres, please have a look at our website. Just type in the tyre size you need for your vehicle and you will be able to see all the All-season tyres available. We always have a large variety of All-season tyres available from many different manufacturers and for every budget.
You can order straight away for home delivery or choose a convenient fitting appointment at our workshop.
Need help deciding which tyres are the right ones for your car? Let us advise you. Our experts will be happy to help. Just give us a call - or come over to see us at our Jacksons MOT Centre Northampton.