Winter Tyres
In contrast to summer tyres, winter tyres consist of a particularly elastic and soft rubber compound and have numerous special profile channels, slats, blocks and incisions. This results in a higher degree of soil adhesion in snow, mud and ice, thus offering the highest possible road safety even under the most adverse weather conditions and even at minus temperatures.
Special offers on winter tyres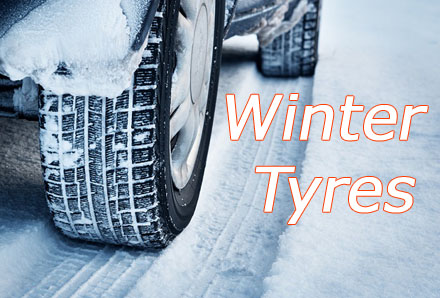 Unbeatable offers - Save now when buying new winter tyres from Jackson's MOT Centre in Northampton.
You can buy online, choosing from a large variety of tyre brands in nearly every size. Just type in the size you need for your vehicle and either choose home delivery or arrange a suitable fitting appointment with us directly with your order.
Jackson's MOT Centre - Matching tyres for all weather conditions
At Jackson's MOT Centre you will find a wide selection of winter tyres in all sizes and price categories. We sell tyres from all known manufacturers and for every budget. Our specialists will be pleased to advise you and help you choose the right tyres for your vehicle. Professional assembly including balancing is as much a part of our service as tyre change and wheel wash.
What to look out for when choosing a tyre
When selecting your winter tyres, make sure you have the correct profile depth. Legally requirement are at least 1.6 millimeters, but experts advise a profile of at least 4 mm or more, as the tyre can clean itself of mud and snow only with sufficient profile depth while driving and maintains its optimum grip. At a lower profile depth, there is a risk that your vehicle will start to slip or roll, and the braking distance will be considerably longer.
Furthermore, your winter tyres should not be older than 8 years, as from this age the risk increases that the rubber mixture of the tyre hardens and the driving performance decreases accordingly.
If you want to make sure your tyres are really winter-proof, be sure they show the alpine snowflake symbol on the sidewall - the official mark for real winter tyres. The M + S mark alone is not sufficient evidence that they are actually officially approved winter tyres.
If you are not sure which winter tyres are right for you, just give us a call or come over to our workshop for our expert's advice!